7 Days Lhasa to Kathmandu Overland Tourr ——Reception of foreign guests【拉萨+珠峰+吉隆7日游-外宾西藏散拼接待】
线路编号:L1003836 不含大交通
[ 成都 收客]
出发城市:

成都 出发

预订须知:

建议提前15天

往返交通:

汽车去汽车回

线路分享:
出发日期及价格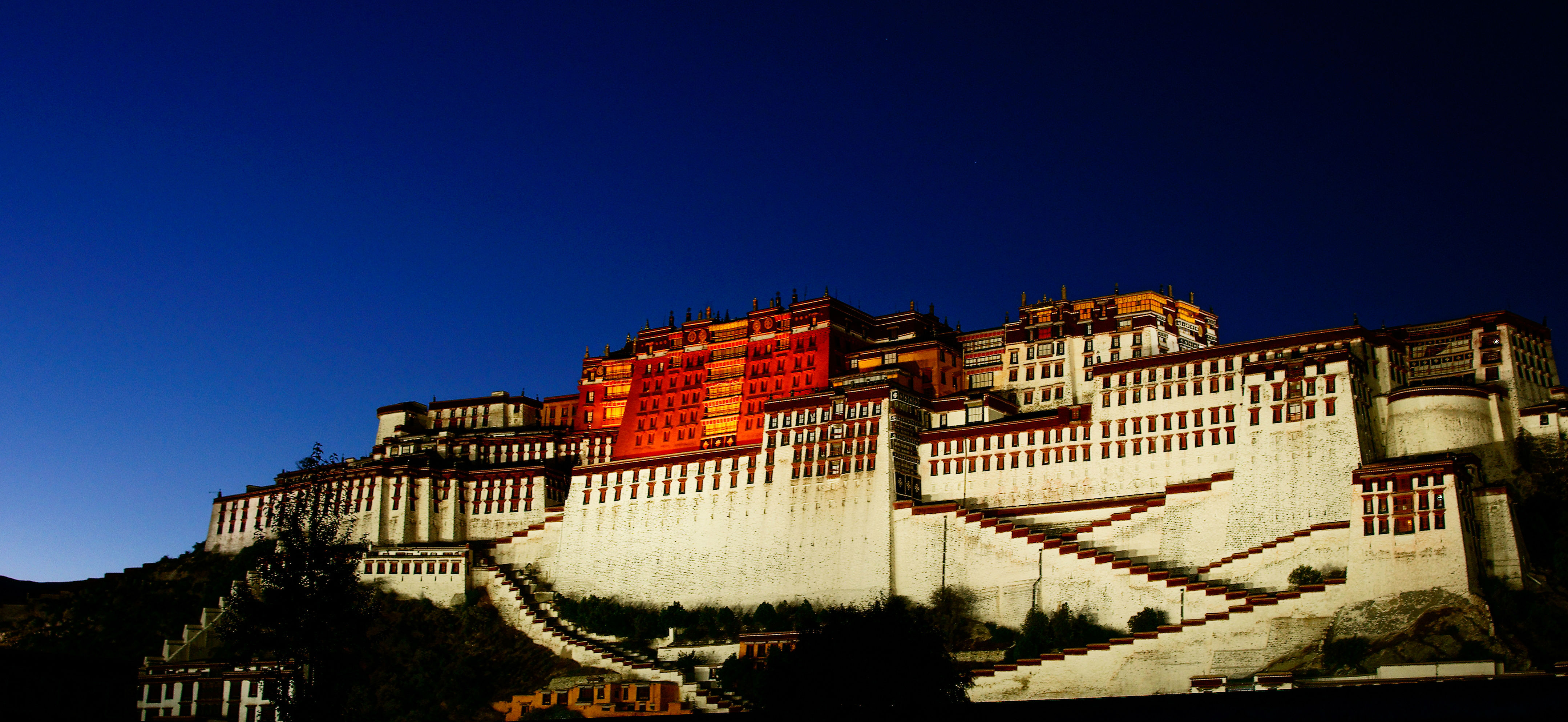 TourBrief

Day

Place

Activities

Meals

Hotel

01

Arrive in Lhasa

Airport/Train station to hotel transfer at designated period of

time

Rest in the hotel to acclimatize the altitude




Economy Hotel twin sharing

02

Lhasa

Lhasa City Tour

*Potala Palace

*Johkang Temple

*Barkor Street

Breakfast

Welcome Dinner

Economy Hotel twin sharing

03

Lhasa

Lhasa City Tour

*Drepung Monastery

* Sera Monastery

Breakfast

Economy Hotel twin sharing

04

Lhasa to Gyantse to Shigatse (370km)

*Yamdrotso Lake

*Karola Glacier

*Simila Pass and Manla Reservoir

*Gyantse Kumbum & Pelkor Monastery

Breakfast

Economy Hotel twin sharing

05

Shigatse to Rongpuk (340km)

*Far View of Himayala Mountain Range




*TashilunpoMonastery

Breakfast

Dorm or Big Tent with humble accommodation

06

EBC to Kyilong Border(350km)

*RongpukMonastery

*EverestBase Camp

*TonglaPass Himalaya Mountain Range View

/

2 Star Hotel

twin sharing

07

Kyilong to Kathmandu(160km)

Kyirong to Nepal border, then to Kathamndu city

*Tour Guide will assist the clients check outChina. And see clients off at Kyirong border. Then Nepalese driver will pickyou up at the border and drive to Kathmandu city, end the services in Kathmanducity (NO Patan or Bhakatupur)

Breakfast



中文概要行程
日程

目的地

游览活动和参观景点

用餐安排

酒店安排

01

抵达拉萨

将游客从机场送至酒店(将游客从机场/火车站送至酒店乘飞机抵达在指定时间段整团免费接三次,早到游客需要等待。火车不限制)。在酒店休息适应高原海拔。




经济型酒店

标准双人间

02

拉萨

拉萨市内旅游观光

*大昭寺

*八廓街

*布达拉宫

早餐

欢迎晚餐

经济型酒店

标准双人间

03

拉萨

拉萨市内旅游观光

*哲蚌寺

*色拉寺

早餐




经济型酒店

标准双人间

04

拉萨-江孜-日喀则(370公里)

*羊卓雍错湖

*卡若拉冰川

*斯密拉山和满拉水库

*江孜白居寺和十万佛塔

早餐

经济型酒店

标准双人间

05

日喀则-绒布寺 (340km)

*在加乌拉山口远眺喜马拉雅群山

*扎什伦布寺

早餐

绒布寺招待所/大帐篷,设施简陋

06

珠峰大本营-吉隆镇

(350km)

*绒布寺

*珠峰大本营

*同拉山口观同拉山口观喜马拉雅全景

/

吉隆镇招待所

07

吉隆镇-吉隆口岸-加德满都(160km)

早上导游协助游客办理离境手续,从吉隆口岸出境。尼泊尔司机会在口岸接游客,然后送到加德满都市区酒店,行程结束。

早餐



费用说明
Price Inclusions
-Allnecessary travel permits for Tibet (excluding the Chinese visa)
-Tourist bus/minibus transportation with experienced local driver during tour
-Tourist bus/minibus transportation between airport statin and Hotel atdesignated period of time
-Experienced Local Tibetan private guide
- 4nights of Economy Hotel twin sharing accommodation with breakfast (B.B), 1night Dorm or Big Tent with humble accommodation near Rongpuk Monastery, 1night at Local Basic Hotel in Kyilong.
- Onewelcome or welfare dinner
- Alladmission fee of tourists sites listed in the itinerary
-Oxygen bottles/Oxygen tank cylinder provided during the tour days in Tibet
Price Exclusions
-Chinese visa
- Lunchesand Dinners, Breakfast at Rongpuk Monastery
-Tips to driver and tour guide

-Single room supplement if clients request a private room in hotels
- Kyilong border toKathmandu land transfer, if clients need this service, please make areservation in advance at about 50100USD/person according to group size.
- One-way ticket to Lhasa ( tips: if you need to buy tickets from Beijing, Shanghai, xi 'an, chongqing, chengdu, etc.please call 028-68680707)
价格包含服务
- 西藏旅游进藏函及西藏境内所需其他旅游许可文件,普通快递投递到指定国内收件地址
- 行程所列景点门票
- 旅行中使用旅游中巴或商务车
- 到达及离开时,机场与酒店之前的接送(需在指定时间段内整团一次性接送)
- 经验丰富的藏族英文导游
- 4晚拉萨市及日喀则经济型酒店标准间住宿含早餐 (每人1床1份早餐),1晚绒布寺招待所或大帐篷(不含早餐).1晚吉隆镇招待所
- 欢迎或欢送晚餐1餐(藏餐)

- 全程提供应急用便携式或医疗氧气
价格不包含服务
- 中国签证费
- 从尼泊尔进藏中国签证办理服务费20美元/人(游客支付给我社当地合作旅行社)
- 晚餐和午餐,绒布寺一晚早餐客人自理
- 导游和司机小费

- 单房差
- 吉隆口岸到加德满都陆路交通,若游客需要可提前预定价格为50-100USD每人,根据具体人数。
-到拉萨的单程机票(温馨提示:如果需要购买从北京、上海、西安、重庆、成都等地出发到拉萨的机票或火车票,请致电028-68680707)
Highlight​s
-Potala Palace: Winter palace of the Dalai Lama
-Jokhang Temple: Spiritual Center for Buddhists in Tibet
-Sera Monastery: One of the "great three" Gelug monasteries of Tibet, the hotattraction is monks debate.
-DrepungMonstery: Drepung used to be a seat of central government until the 5th DalaiLama built Potala Palace.
-Namtso Lake: It isthe "Heavenly Lake" which is one of the four holy lakes of Tibet andalso the highest salt-lake.
-Yamdrok-tso: One ofthe three largest sacred lakes in Tibet
-TashilunpoMonastery: the seat of Tibet's second highest incarnation, the Panchen Lama.
Day by Day Itinerary
Day 1: Arrival in Lhasa.
After arriving inLhasa, tourist can take a rest and get acclimatized to high altitude or feelfree to go to Potala Square, enjoy the fountain with different colors and getamazing photos of the Potala and around.
Day 2: Lhasa City, Potala Place and Barkhor Street (B, D)
The tour will beginfrom UNESCO World Heritage site - Potala Palace, which is also the winterpalace of Dalai Lama. It's situated at 12,139 feet above sea level. It's a13-story high building that contains over 1,000 rooms, various statues, stupas,murals and artifacts.
Then continue toJokhang Temple, another UNESCO World Heritage site. It's a spiritual center forBuddhists in Tibet. Next to the temple there is Bakhor Street, filled withpilgrims and street vendors, selling traditional Tibetan items such as prayerwheels and jewelry.
Day 3: Monasteries in Lhasa(Drepung and Sera) (B)
In the morning,tourists are going to visit Drepung monastery which was one of the "threegreet" Gelug monasteries of Tibet and was founded in 1416. Ganden palace isused as Dalai Lama's palace in the Drepung before moving to the Potala palace.
Afternoon, SeraMonastery---It was one of the "three great" Gelug monasteries of Tibet and wasfounded in 1419. The highlight is the Monks debate at around 3 - 5 in theafternoon.
Day 4: Lhasa (3650m) to Shigatse(3900m)
In the morning, drivefrom Lhasa to Shigatse .On the way, drive over the Gampala pass (4790 m), andtourists will have a glimpse of Yamdrok-tso (4400m) .The Lake is surrounded bymany snow-capped mountains and in the distance clients can have spectacularviews of Holy Mount Nyenchen Khangsar, (7191m) the highest mountain near Lhasa.
Gyantse washistorically Tibet's third largest city (after Lhasa and Shigatse).In Gyantse,tourists will visit the famous Pelkor Monastery and Gyantse Kumbum.
After one and a halfdriving, we arrive in Shigatse, which is the second largest city in Tibet. InShigatse, tourists will visit Tashilunpo Monastery, the seat of Tibet's secondhighest incarnation, the Panchen Lama.
Stay overnight inShigatse
Day 5: Shigatse(3900m) to Everest(5200m) via Tingri
In the morning,tourists will visit Tashilunpo Monastery, the seatof Tibet's second highest incarnation, the Panchen Lama. Then, we'll leaveShigatse after getting your Alien's travel permit, and then drive to Lhatse, itis a small town where you can have lunch. Then, head to Shegar and if theweather is clear enough then on the way down to Shegar tourists will view theMt, Everest in the distance. After 4 to 6 hours' drive, tourists will arrive atRongbuk monastery but on the way, they will pass one of the highest Passes inTibet (pang la pass height 5050m) from that's pass they will view the wholefive highest peaks in the world.
Day 6: Everest (5200m) to Kyilong Town(2600m)
In the morning, youcan appreciate the sunrise of Everest Peak if weather permits at the lodgingarea and then visit the Rongbuk Monstery - the unique highest monastery withnuns and monks living together. Later, we can visit the Everest Base Camp andtake pictures of Mt. Everest at the closes distance in EBC.
After that, we candrive from EBC to Kyirong border. On the way, tourists can enjoy breathtakignvista of Mt. Shishapangma and the Pekutso Lake. After passing the GhungtangLhamo(5236M), we will arrive in Kyirong in late afternoon.

Day 7: Exit China through Kyilong Border (2600m), then drive toKathmandu
In the morning, driveclients to the new tourist border – Kyilong, tour guide will assist clients tocheck out of the border. Then Nepalese driver will pick you up at the borderand drive to Kathmandu city, end the services in Kathmandu city (NO Patan orBhakatupur)
Tip
Lhasa Hotels:1、Economy Hotel-Lhasa Yak hotel
-Lhasa Gnagjian Hotel
2、Comfort Hotel-Lhasa Gnagjian Hotel(When the hotel room is tense, Budget hotel room may be upgraded to use comfort hotel)
Shigatse Hotels:1、Economy Hotel-Zangba Hotel
- Manasarover Hotel
2、Comfort Hotel-Tashichota Hotel
- Shigatse Hotel
Everest Hotels:Temple Guest House、tent
Kyilong Hotels:Jilong Hotel
Tip:If you are a guest who booked an economy hotel room, the agency does not guarantee that you can use a single room.
拉萨常用酒店:1、经济型-拉萨亚宾馆(Lhasa Yak hotel)
-拉萨刚坚饭店(Lhasa Gnagjian Hotel)
2、舒适型-拉萨刚坚饭店(Lhasa Gnagjian Hotel,经济型酒店用房紧张时可能升级为使用舒适性酒店)
日喀则常用:1、经济型-藏巴酒店(Zangba Hotel)
-神湖酒店(Manasarover Hotel)
2、舒适型-扎西曲塔酒店(Tashichota Hotel)
-日喀则饭店(Shigatse Hotel)
珠峰常用:寺院招待所、帐篷床位
吉隆-吉隆宾馆(Jilong Hotel)
温馨提示:如果是预定经济型酒店单间的客人,本社不保证能用单间
预订流程
网上预订:直接通过网站下单,在线选择产品并填写相关信息后,提交订单。

电话预订:拨打咨询电话028-68680707 85557540,由客服帮助您完成信息的确认和下单操作。
付款方式
网上支付:网上银行、信用卡、第三方支付(支持开通网上银行的储蓄卡及信用卡)。

门市支付:门市现金付款,转账支票,刷卡。

网点支付:您可以通过便利店、邮局、药店等支付宝合作网点付款。

对公汇款:通过银行将相关款项汇至指定账户。查看汇款帐号

发票说明:按照国家相关规定,本产品提供"旅游费"发票,不提供其它类目发票。 如何获取发票
用户点评
行 程:

100%
导 游:

100%
交 通:

100%
住 宿:

100%
暂无任何点评记录!
在线咨询
您的问题?告诉我们您的疑惑,我们会在第一时间为您解答。请您: